Click here to find out more!
Welcome to
Bishop's Pumpkin Farm!
Order your Thanksgiving Pies!
We will be open for Thanksgiving orders on Monday, November 23rd through Wednesday November 25th. Give us a call or
Order pies online
We will Re-Open for our Spring Season on April 27th, 2016
Thank you for a great 2015 season!
We will re-open in the spring for Hamburger Farm on April 27th.

Thanksgiving bakery pre-orders can be picked up on Nov. 23rd, 24th or 25th.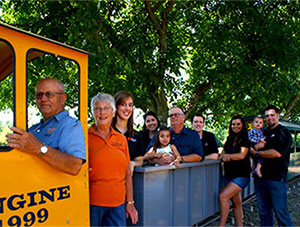 The Bishop Family Invites You to
Come Harvest Memories with Us!
Read our 2015 Vine Line Newsletter for helpful information, coupons, and the farm map.

Accolades for Bishop's
Pumpkin Farm:
"2013 Champions of Yuba County"
– Yuba County Board of Supervisors
"2012 Business of the Year"
– Yuba-Sutter Chamber of Commerce
"2005 Farm Market of The Year"
– North American Farmers Direct
Marketing Association